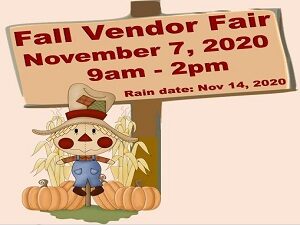 Registration deadline: October 14, 2020
Event date: November 7, 2020
(Rain date: November 14, 2020)
This event was originally scheduled for March but was postponed due to Covid-19.
If you were confirmed by payment
in March and are available to participate in November,
please let us know. No refunds from
the March event will be given due to the rescheduling of th
e event.
If you were not confirmed for the March event and would like to participate, please click "Email Emily" below to check availability because there will be no duplication
of
vendors for this event.
This outside event will be held at 475 S. Shiloh Road, York SC. You will be allotted one parking space. We have
limited tables so you need to supply your own. Maximum of two tables please. Flyers, social media and newspaper will be used to publicize the event. Our youth will be selling breakfast and lunch throughout the day.